Hannah plays Frontrow Fest as heard BBC6 Music with Lauren Laverne
It seems a rare thing these days to attend a gig as an independent artist and feel so warmly welcomed and appreciated, happily that was the case when I attended Frontrow Fest in Oxfordshire last weekend. Billed as a one-day family music festival with overnight camping and hosted by Alchester Rugby Club near Bicester – you may know it for it's famous designer brand outlet store – Frontrow Fest couldn't have been further removed from material mayhem with it's relaxed atmosphere, set in a peaceful village on a sleepy Saturday afternoon and only the very distant sound of cars passing by on the M40.
Tucked away in this superbly organised, sunny corner of a field in England was a gathering of family members of all ages, politely putting out their portable chairs and picnic mats stage-front and settling in to watch what was a hand-picked roster of British new music talent, not forgetting a real ale, G&T or three!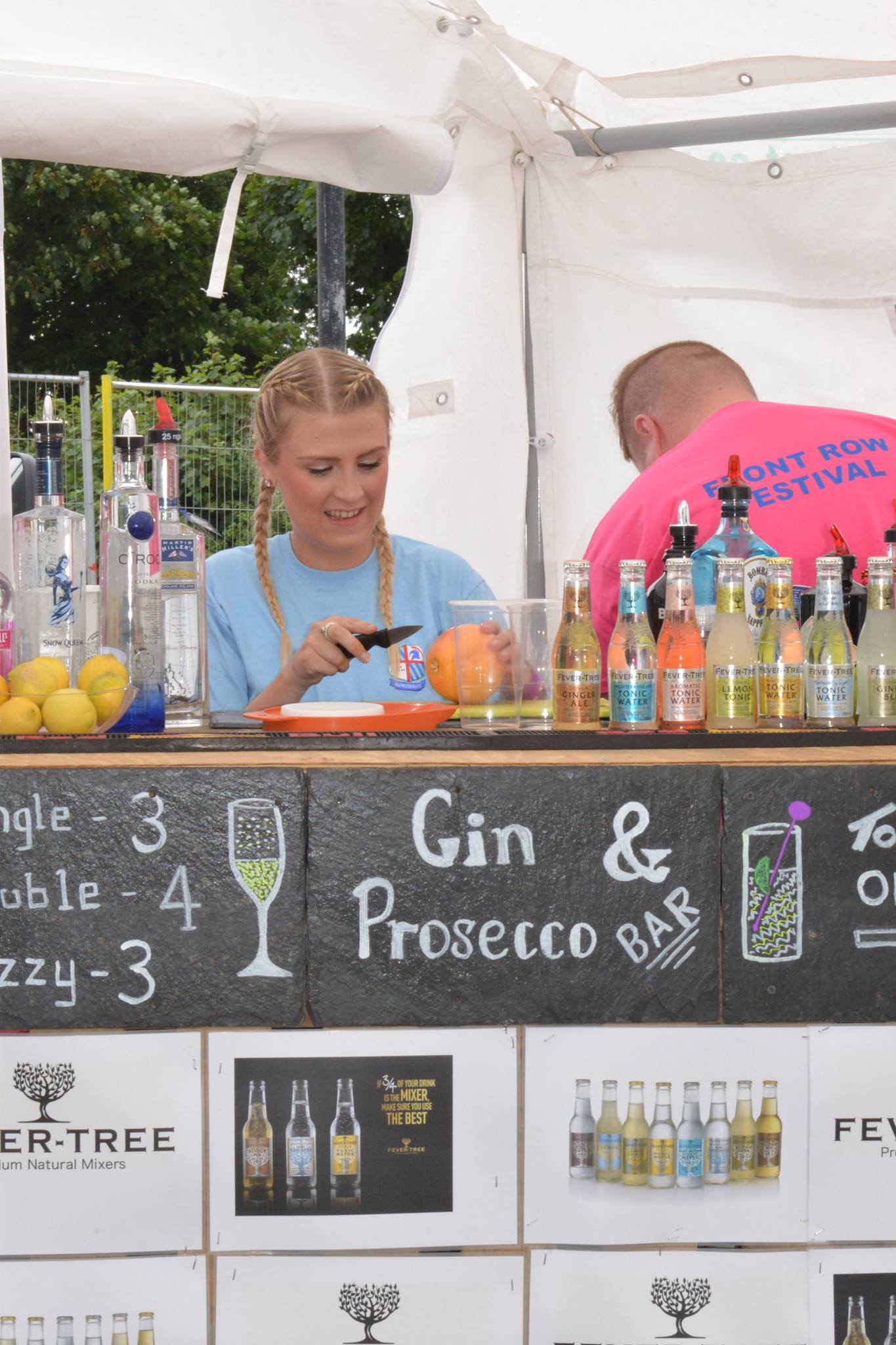 No big names or Cowell contestants here – instead an incredibly talented gathering of passionate new music makers. Presented as a direct result of the superlative ears of event organiser, self-confessed music fan Mr Keith Nash who, for the past few years whilst conquering ill health himself, has quietly been scouring the independent radio airwaves and attending gigs – resulting in an invitation to all his favourite acts to perform at his brainchild event: Frontrow Fest. Acts drawn from all points on the UK compass with most travelling a minimum three hours to get there – in some cases nine.
Frontrow Fest is only in its second year but Nash's keen musical ear hasn't gone unnoticed by BBC 6 Music's Lauren Lavern – known for her support of new music acts – twice she's had him on regarding this festival – with a 2017 line-up featuring at least three BBC Introducing acts including the fast-paced "gloriously guitar-heavy" Floodhounds from Sheffield. I first came across them via EGH Radio Unsigned and we both performed at Oxjam Leeds last year. A three-piece indie-rock outfit whose infectiously catchy tunes certainly caught the audiences' attention at Frontrow Fest and not least my friend's 13-year-old son. The Floodhounds sold out of CD's – am on the case though…I will get him one.
Then there was my fellow BBC Introducing London act the acoustic-sometimes-slide-guitarist and rich vocalist, the talented songwriter Mr Harry Pane. Winner of 'Best Original Artist' at the RoadToThe100Club with PRS and Island Records, Harry's played Glastonbury and the coveted SXSW Festival in Texas to name but a few. A rising star with previous sold-out shows in London and a London Live Sessions TV under his belt, he's currently on tour promoting a new EP release The Wild Winds. Budge up Ed… Frontrow Fest is lovin' Harry.
Other notable performances included the raw energy of Colonel Pearl – an alternative covers band who did indeed 'get the party started', along with London-based alt-country band The Homing with their eclectic mix of folk, rock and country influences, picking up the band baton after The Lilyhammers' opener on the main stage. Happily several solo female acts were on the bill including local Oxfordshire lass Rosie Samaras with her unique blend of pop and R&B, as well as Ms Beth Thornton – another local songstress, this time with a country edge – who's supported Bon Jovi in Toronto, Canada. Thornton set the bar for us lady solo performers, more than holding her own on the main stage after a full band set from The Homing. A busy lady – she was straight off to another gig afterwards…Go Girl! Other acts included La Phooka another local 5-piece with a foot-tapping folk and traditional Irish music sounding influence that had 'em up dancing.
Alternating with the main stage, was another line-up on the brand new acoustic stage, which I had the pleasure of inaugurating in what was to be the first of two performances I did that day, followed by another early evening set – just before the last two main stage acts. I won't review myself –  suffice to say the other acts came to watch me, apparently 'the perfect aperitif' for the irrepressible Barstow Bats who followed, smashing their set as the light began to fade and a new energy crept over the field, with children packed off to bed!
The Scottish Barstow Bats played out of their skins, fresh off the back of their killer set in London the night before, having driven nine hours over the Border to perform – now there's dedication for yer! With a guitarist who could've stepped straight out of The Ramones, steered by song writing partners Rendall and McKie, powered by Barry Gemmell on bass and Danny Wynne on drums, this four-piece pack a punch with their catchy tunes, clearly influenced – but not derivative of – the greats in the rock n roll pantheon; four band members who couldn't be more different, yet somehow it works! The Scots led the charge for the impromptu after show artist karaoke, late into the night.
Last but not least came headliners from Manchester The Mantells – who despite their disbelief at actually being the headliners – also played out of their skins in a true rock n roll friendly riposte to The Barstow Bats. Playing for a full hour and a half set that delivered everything you'd want from an indie rock band – standing on speakers, sitting on speakers – with a particularly enigmatic bass player in Dale Moran, who reminded me with his John Lennon Imagine years beard and hair, in his tall, skinny, pale suit, of a cross between Jesus and the bloke out of Free – I half expected to hear Alright Now blast out across the field. Contrast this against the powerful, soulful vocals in blonde frontman Tom Barrow backed by Lewis Moran on drums, both supporting lead singer Tom on vocals and together you have a three-piece who certainly deserved their place at top table, providing a fabulous end to what was a brilliant day of music.
The camaraderie between all the acts who remained afterwards – drinking and singing 'til the sky lightened and the birds sang (we think the Scottish Bats were the last to retire) was testimony if need be, to how special an event it really was. Our very own little modern Woodstock – 'there's something happening here' in the fields of England musically these days…small but delivering tremendous 'satisfaction'… thanks Keith.