#HCHQ Its been a while since I heard a proper pub sing song round a jo'anna and I didn't realise how much I missed it 'til I stumbled upon Mr Marky Dawson, literally rockin' the roof off the joint at The Red Cow in Richmond tonight. A pub I haven't frequented for many a year – but so glad I did. Picture the scene …
 …We have a classic Victorian pub with a mixed bunch of locals, young to old, round about 9:30pm of a Saturday night – well oiled, yet clearly only just getting warmed up! Well, they had the perfect maestro in the pocket-sized but perfect Marky Dawson whom I think I can safely say, didn't miss a square inch of his piano tonight.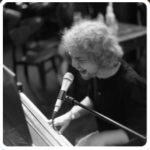 Choosing a selection of classic tunes both new and old, that literally had the whole place swingin' – rather like a gallant old sail boat, swaying slowly from side to side, en song and with gusto.
From Chuck Berry's 'Johnny Be Good', to Jerry Lee Lewis' 'Great Balls of Fire' – the solo of which Mark reduced to the last two keys of the top end left-handed, whilst standing up and drinking a pint – to Queen's Bohemian Rhapsody, to the Kinks, Van Morrison, beat-boxing Jackson's 'Billy Jean', to Kings of Leon – I swear there wasn't one song this dude didn't have down and with such energy.
With deceptively brilliant piano playing, the likes of which I have only ever heard tale of from grizzled old East End geezers in BBC 4 music documentaries – reminiscent of Mrs Mills, or the piano in The Beatles 'Bull Dog' – the music drifted out the pub doors, over some no-doubt startled posh rooftops and, as the entire pub joined in to Neil Diamond's 'Sweet Caroline' this life-long Richmond-er smiled and thought – it's been a while since this old boozer saw the likes of this…I swear I heard The Red Cow's walls breathe a sigh of relief – and all from a man who couldn't have been more than 22! Now where did he learn to play like that! More please.