#HCHQ watches Rocktronica Giants (IAM)WARFACE gig, followed by beers, laughs n chats with Huey last Friday at his Blues Kitchen DJ gig in #London's Shoreditch.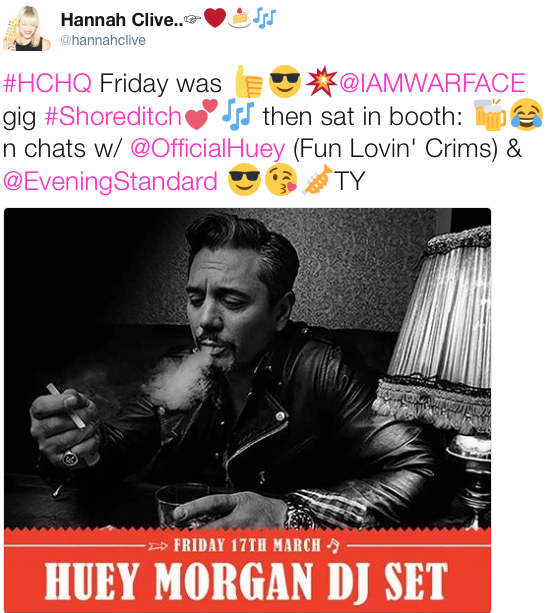 Well it was certainly an interesting night out last Friday, travelling from what is this musician's native Richmond-upon-Thames up to London's East End. And its gotta be an exceptionally good cause to get me to do it these days – not least coz its a forty quid Uber ride home!
But it was Brighton band (IAM)WARFACE' gig at Brick Lane's '93 Feet East' that enticed me, followed by some beer n chats in a Blues Kitchen booth with Fun Lovin' Criminals frontman and BBC Radio 6 DJ Huey Morgan, plus a couple of great lasses from London's Evening Standard newspaper – well one of them was – the other her bestie, a beautician, whom she'd met attending the Barbara Speake Stage School.
The former was trying her very best to interview Huey, although as he explained to me on my arrival somewhat conspiratorially, he doesn't really do questions, especially not those that are pre-prepared. That said, he and I shared some interesting talk as regards to what its like being in a war-zone – specifically the Balkans – he in his former capacity as a marine and, "Getting shot at coming up the beach" and me in my capacity as a singer, supporting raising money for child victims of the war. A very 'real' conversation topic given our surroundings, in what was a noisy 'hipster-filled' London Bar – one way to fend off press questions I suppose.
I loved his set spinning some tunes and true to his tweet earlier, he did indeed "blow the roof off the joint" and even I, who could remember the tunes from the first time around, felt the undisputed urge to groove. Later he disappeared off into the night with the Evening Standard – I'm pretty sure the lady got her story – although I'm not sure her new boss George Osbourne MP, will fully appreciate her tenacity.
All that remains to be said is I loved the (IAM)WARFACE set. This is not a complete review of same, mainly because I was too busy behind a camera filming them, having far too much fun doing that.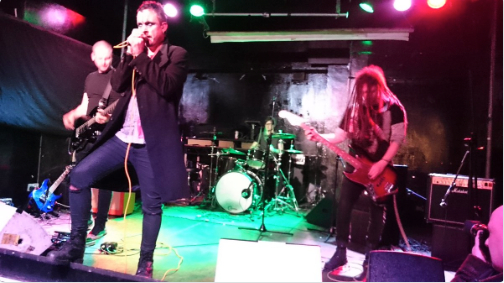 What I will say though, is that despite the problems with the venue's sound (not quite sure what the engineer was doing but the poor sod's probably only paid a pittance) the band dealt with it very professionally and still managed to offer what was a packed venue, an absolute belter of a show, including all their now familiar rock-tronica tunes: 'Say My Name', 'Bleed Out' and, 'Atomic White Gold' all of which the crowd were singing along to, interspersed with battle cries of: 'Warface, Warface!" This from a band fielding a new drummer with a broken hand (Chris luv – I'd never have known and I'm loving what you're doing rhythmically). Frankly, if thats what he's like when its broken, I can't wait to hear 'em gig when it ain't. 'Vanilla' and 'Ed Sheeran' (IAM)WARFACE are not – Glastonbury…take note.