Review by Hannah: Bobby Davro & Comedienne Abi Roberts set Hanwell Hootie off with a bang at Bearcat Comedy Club
Bobby Davro & Comedienne Abi Roberts got London's largest 1 day music festival Hanwell Hootie off to a fine start last Friday, at The Bearcat Comedy Club: The Viaduct, W7.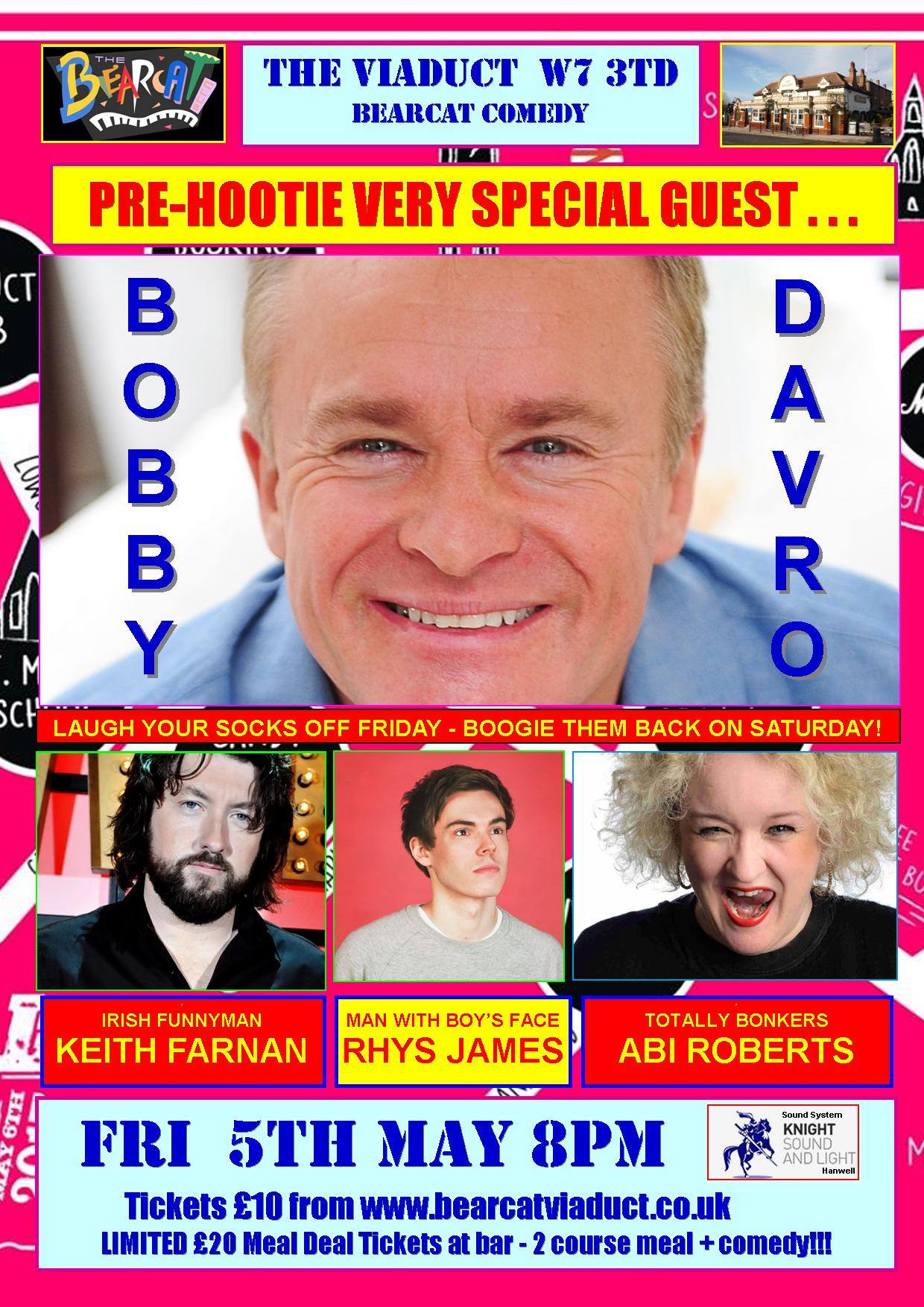 I've heard much ado about Mr Bobby Davro's comedic prowess and indeed he did not disappoint his audience at what was the start of the Hanwell Hootie Music Festival last weekend, and with a set completely unapologetic in its absence of political correctness – the audience lapped it up. But it was the effervescent, nay firecracker of a comedienne in Ms Abi Roberts, that caused me to beat a path to the door of the Bearcat Comedy Club, Hanwell – to catch a lady who must surely be a star in the making, if ever this comic's daughter saw one.
It was her show last year at the Bearcat's sister venue in my local St. Margaret's, Twickenham where I first witnessed the jiggling, bouncing Abi burst on to the stage, with a slick of red lippie and her shock of blonde hair. I was hooked.
She has a deceptively easy way with her, seamlessly engaging her audience, drawing them to her and from the off, it's clear she will please: "Who's under thirty?" (One faint cry in the affirmative) Abi replies, sending herself up, eyes downcast: 'Yeah, effing you with yer good looks and clothes that fit!"
And there's nothing like a bit of audience participation to pull 'em in still further getting us girls on side with a bit of a "Beyonce singalong", followed by the guys singing (better): "I'm sexy and I know it" – it's ladies versus the guys. The perfect contemporary comedic set up introducing what will be a bit of a theme, sending herself up and her back-when-twenty-something antics, behind nightclubs in Wales from a self-confessed "not pregnant, I'm just fat" woman. It works – and it has the ladies in hysterics – I'm not quite sure the fellas knew what hit 'em but boy were they laughing along with us, as Abi gave a vigorous and eye-wateringly funny demonstration of some of her exploits. A perfect blend of the risqué whilst teetering on the edge and still not managing to offend anyone – no cheap laughs here or gags at someone else's expense. Instead this was a pitch-perfect performance from a deceptively clever woman who knows her comedy and what her audience likes; a comedienne who can do a whole other award-winning show: 'Anglichanka' – in Russian, very successfully, in Russia!
At a Friday night Bearcat on the brink of The Hanwell Hootie weekend, Abi Roberts brought the house down with her reminiscences of a not-so-distant youth and yes, even Mr Bobby Davro could be seen chuckling heartily, appreciating her comic observation and razor-like wit. He may have been the sell-out act they came to see but this night Abi Roberts shone. It is surely her time – and even Davro, with his years of comedic experience had the good grace to recognise her achievement, bringing her on at the end commending her to the audience – their rousing cheer said it all. Ladies and Gentlemen I give you Abi Roberts. Catch her now, before she fulfils her fantasy and is rescued from Armenian drug-traffickers by Liam Neeson or better yet, filling the Hammersmith Apollo, where she surely deserves to be…Nostrovia!!
"A star in the making. Next Stop Hammersmith Apollo please!" ★★★★★  – Hannah Clive, #HCHQ
Nominated/Runner-up: Best Comedy Show – Funny Women Awards 2016
Nominated: Best Comedy Show – Buxton Comedy Festival 2016
Nominated: Best Comedy Performance – Buxton Comedy Festival 2016
Reviews from Edinburgh Fringe 2016 – Abi Roberts: Anglichanka:
★★★★★ Edinburgh Festivals Magazine
★★★★★ Edinburgh Fringe Review
★★★★★ Swindon Evening Advertiser
★★★★ Theatre Bath
★★★★ Three Weeks ★★★★ Fringebiscuit ★★★★ EFR Late
★★★★ TV Bomb ★★★★ Edinburgh Evening News ★★★★ The List
LINKS:
Twitter: @abiroberts
News about ANGLICHANKA here: http://www.bbc.co.uk/programmes/b07vjxhp
Contacts:
Terence Gibbons
Agent/Booker: Abi Roberts
T: 0771 243 6056