#HCHQ‪ Isle Of Wight Festival Review with Indies: JUDAS, MINT, Apollo Junction and News from Run DMC.
It's no mean feat getting to or performing at the legendary Isle of Wight Festival – you've REALLY gotta want to be there!
Like many festivals the site is huge and of course it's on an island, off the south coast of England necessitating a forty-minute ferry ride. Frankly us Brits don't have that down like the Norwegians do, for whom ferries arrive and depart with awesome precision. Then there's the getting on site. But staff are very helpful and once the masses have donned their trademark festival uniform: impossibly short 'daisy-duke' shorts, crop tops, wellies (Hunters for the VIP section), body glitter and flower garlands – you're there.
Being as the music industry is as hard as it is these days, it was with more than a little relief that I discovered the Jack (Daniels) Rocks/This Feeling and Hard Rock (Café) stages. Thank God the Jack Rocks stage had a sign up with the names of bands and stage timings, especially helpful since these bands are there precisely because they want to attract new followers, having slogged their way up the gig ladder. Passers-by actually know who they are.
It was on these two smaller stages – lets call them rungs one and two of the IOW ladder – that I found the indie bands I've spent over a year actively supporting in the Twitter-verse. As an artist myself I don't have to cross-promote – but given that music industry precariousness mentioned earlier, it seemed the obvious human thing to do – support good new music. I was reconciled that despite the quality commercial acts visible on bigger stages, at the Isle of Wight Festival I was still able to find real bands, slogging away the old fashioned way, gigging their arses off to be worthy enough of this festival – after all, that's how it started.
No nepotism, buying-in or newbie-divas refusing to go on-site in the rain here. On the Jack Rocks with This Feeling and Hard Rock's stages were bands that have in most cases spent years working audiences – honing their music, learning their craft at sweat box gigs, paying promoters from non-existent earnings, travelling up and down motorways in tiny vans in the small hours, sleeping on top of the gear – proper old skool.
I watched indie band Apollo Junction display exactly that – pure stagecraft – when lunchtime Saturday on the Hard Rocks Stage they were presented with a hung-over and determinedly seated audience, suffering from a bad case of 'festival legs'. Nevertheless Apollo Junction went on undeterred, tearing into their set of uplifting, catchy tunes. Still the audience remained seated – this may have had something to do with the sound at first, fixed with a small intervention (someone bothering to tell them) and Apollo Junction found the 'stupid juice' – enticing the front third of the audience to stand up, pausing only to explain how much it genuinely meant to them, how they'd done a gig, travelled down overnight (in that van) all the way from Leeds – just to perform for them at The Isle of Wight. A big moment for the band to be sure and having graduated from another stage the previous year they really had to make their mark – and make it they certainly did. I can honestly say in all my years of performing I've never seen a front man work an audience as hard as Jamie Williamson from Apollo Junction did. Jumping off that stage radio mic' in hand for the last three songs, he went round every seated member in that audience and by the end, each and every single one of the by now 1000 strong crowd were up on their feet bouncing inflatables around.
Later on, I found myself standing with Jamie at the back of the crowd in the Main Stage area having bumped into him watching Catfish and The Bottlemen. I asked if he liked them – he did. But like me, as musicians we both stood there wondering, looking out across the expanse of people between us and the main stage: 'How the hell do we get there?' What do we actually have to do? The Bottlemen are undeniably good but as my counterpart from Apollo Junction gently yet politely speculated: "Have they worked as hard as us?" Have they been gigging every little venue around North America and got picked up? Or do they know someone – the right someone. We will never know. Thankfully we both agreed we liked their music and appreciated their performance. Good on 'em!
And so long as festivals such as Isle of Wight make room for the Jack Daniels with This Feeling Stage and the Hard Rock stage there's still hope – provided you don't lose it or a fortune trying to get there on the way – its £200 just to cross to the Isle of Wight, not including petrol from Leeds!
I caught False Heads and Broken Witt Rebels doing positively electric sets on the Jack Rocks with This Feeling Stage, so too the impressive JUDAS whom this year I'm pleased to say have graduated, from 'Jack Rocks' to the 'Hard Rock Stage' followed by another set the next day in 'The Big Top'. As always a reliably impressive set from this four-piece London-based rock band, drawn together through the power of the webinet with a shared love of music. "Better than U2" read the reverse of one t-shirt – well having seen them confidently bring the house down at London's Half Moon a few weeks back, I was delighted to see them again including their pertinent new tune 'Ceasefire'. JUDAS is on a meteoric rise, having just hit a quarter of a million plays on Spotify – definitely one's to watch and do not disappoint. Another in that category would be all girl punkish-rock group PINS from Manchester who're involved with Iggy Pop.
I was sad to have missed MINT's set. Another explosive band, emerging from the Northeast's Grimsby and taking venues and universities by storm, first encountered last year when we all played Oxjam Leeds together. At the time I thought the floor was going to go through, the audience were jumping that much.
But I heard reliable reports of MINT's brilliance and raw-energy smashing the Isle of Wight crowd at Jack Rocks. Clearly the vibe got them – in true rock n roll style the bass player Andy, in an over enthusiastic inflatable-throwing incident with lead singer Zak, had broken his wrist, refusing to have X-rays taken in hospital until he'd caught JUDAS' set – now there's dedication for ya!
No Hot Ashes was another set I'd liked to have caught, but for my route-negotiation on to site. Pleasingly though, bystanders informed me theirs had been a superb set and frankly if Mr Peeps of Twitter fame is there with 'em, it's gotta be good.
The Big Top stage housed more known acts and I'm guessing is a counterpart to the main stage. As overheard from others, I must admit I was a little confused that Mel C, The Pretenders and Alison Moyet weren't on the main stage, instead performing The Big Top with its maximum audience capacity of approximately five thousand, meaning people standing around the outside trying to watch them perform. However, I was very pleased to be able to discover the talented Lucy Spraggan, also in the Big Top giving a rousing performance and demonstrating that stage craft can only come from years of genuine practice – even if she herself made the jump to hyper speed via X Factor in 2012. Interestingly enough though, following her top-ten debut album success, she's opted for the independent route, releasing her second record "We Are" on her own label. I'm digging Lucy.
I saw many others, from David Guetta's pyrotechnic Ibiza-esque extravaganza, to the anthemic 'I Predict a Riot' from the superb Kaiser Chiefs; from Arcade Fire to The Undertones.
I heard Darryl McDaniels founding member of Run DMC not three feet away, talking passionately with press about his work with the Jam Master Jay Foundation, funding resources for free public school music education programmes. How money from the top doesn't reach kids at the bottom who need it and how he's working to change that, adding:
'I'm thinking about running for office' – Darryl McDaniels, Run DMC
Truly Isle of Wight festival 2017 was an experience not to be missed, even if there weren't as many VW Camper van people there as I might have expected. It was fish n chips, burgers, with an occasional nod to falafel. But with a successful event this size, there was something for everyone; the Kashmir tent, the electronic tent and the boundary busting, eye-popping Cirque de La Quirk. Thank you Isle of Wight, to the numerous staff that helped make it happen. To John Giddings and all his team for achieving a relaxed atmosphere away from hung parliaments and terrorism elsewhere – we needed that escape – thank goodness we have music to unite us. Who knows, perhaps one day I may even get to play there myself …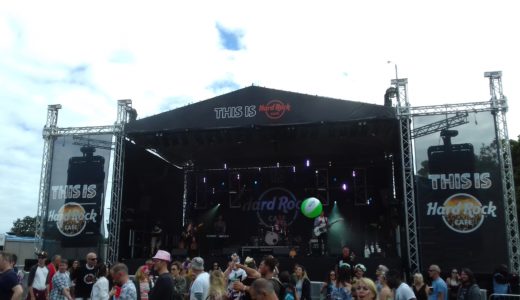 Further photos available at: #HCHQ Facebook