Hannah Clive is a BBC Introducing in London artist of whom respected British Music journalist and BBC London DJ Gary Crowley said:
"How impressive is that! My producer Ollie nodding along approvingly there – and why wouldn't you – it sounds so accomplished! New music from the very talented singer songwriter Hannah Clive. That wouldn't sound out of place on this radio station (BBC Radio London), Radio 2 or any of the others as well!…" [Listen HERE ]
She has since been invited on BBC Radio London's Gaby Roslin Show to perform, been interviewed on BBC Sussex and Surrey, BBC Three Counties Radio and appeared on the number one web-show in the world: America's Jimmy Star Show with Ron Russell going out to four million people on radio and webTV.

2017 saw her win Artist of the Year at Canada's Starlight Music Chronicles magazine in a Judge and fan-based vote, an interview with #SMC friend's Limehead Radio, as well as runner-up in Radio Wigwam's Best Female Artist music awards.
Having completed a successful clutch of British festival circuit gigs, her final 2017 performance saw her come home to play a sell-out gig at Twickenham's Cabbage Patch for Teenage Cancer Trust, supporting friends (IAM)WARFACE, Nick Swettenham and pals, raising over £1200. Her long awaited new single REMEMBER TO BREATHE released to critical acclaim at the end of 2017, received yet more airplay from BBC Introducing London the week before Christmas with DJ Crowley remarking: "It's songs like that that are winning Hannah Clive friends all over the world." The track has won Track of the Week and been included in 'Top 40 for 2017' and 'Tip For The Top' Charts for various indie radio stations and is receiving global airplay and accolades from all quarters of the indie music scene.
An influential voice has emerged on the British indie music scene and her name is Hannah Clive…seriously, is this a contender for song of the year? Hannah Clive's 'Remember To Breathe': About Encouragement, Advice and Compassion… – Music Interview Magazine, New York.
2018 is set to bring further new releases including an eagerly-awaited musical collaboration with friends (IAM)WARFACE and more live performances.
Music matters to Hannah Clive. Whether it's her songs, her tweets as a music and media Commentator (#HCHQ ☞ @hannahclive), or her music articles as a Music/Band Interviewer – Hannah strongly believes in supporting good quality fellow artists. Her life-long passion is music begun singing with Ray Charles aged just 17 going on to sing with the likes of Dave Gilmour, Ronnie Wood and many others. A versatile, multi-genre songstress and vocalist as demonstrated by her collaboration with The Herbaliser on 'Lost Boy' (BBC Radio6, Youtube 70k+ views) Hannah regularly occupies the Reverbnation Top 20 Chart for London as a solo artist.
Her long awaited new single REMEMBER TO BREATHE  is in stores 17th Nov 2017.
2016 saw Hannah re-release the re-mastered version of 'Kiss of Life' as heard recently on BBC Introducing and taken from her first self-titled EP 'Hannah Clive'. Produced by Brian Tench (Kate Bush, The Bee Gees) featuring guitars by British Blues legend Bobby Tench (Jeff Beck) and Gus Isidore (Seal), with backing vocals from Ladonna Harley-Peters (Emeli Sandé) and re-mastered by The Who's Jon Astley – the tracks production credentials speak for themselves. Hannah's songs are observational, often personal, exposing vulnerability edged with emotion readily shared with her audience. Influenced by songwriting greats such as Carole King, Kate Bush and Adele, she weaves a web of truth with alluring lyrics and soulful vocals, her voice has been described as:
A cross of soul and country and rock, as if Dolly Parton had a child with Marvin Gaye and the result was the new Janis Joplin!" – Beard, G. MusicTalks, 2017
Formative years in a show business family from Richmond, Surrey (UK) – her late father was TV and film actor John Clive  –  as well as encouragement from the local music scene and life's struggles, have all contributed to the emotional nature of Hannah's songs and performance.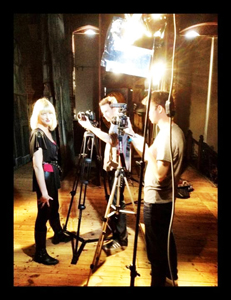 Early introductions to established artists led to recording sessions as a backing singer. But hanging onto the shirt tails of household names was not an ambition for Hannah, who by now was in her late teens and already writing songs with a seductive edge. Facing an industry predominantly interested in dance music and synthetic acts and feeling let down Hannah temporarily retreated from the music scene. A roller coaster of experiences followed, eventually focusing this burgeoning song writer on heartfelt emotions, a desire to reach out and reconnect with re-energised audiences, together with her fellow artists. Driven by the thrill of performance, belief in her songs and encouraged by others in the music industry, Hannah started to perform at London venues again, seeking the same troubadour spirit as the iconic artists who'd originally inspired her! The result being BBC Introducing London's discovery of Hannah debuting her alongside rising stars Cos1ma and, The Second Sons.
Her sharing of straight from the heart songs and passionate desire to support her fellow artists at what is a challenging time in the industry has attracted a growing following online and strengthened her resolve to be taken seriously as a singer-songwriter and media commentator. She is rapidly becoming a respected voice on Twitter for the #indie community, with American indie music journalist Rebecca Singer describing her in a recent interview as: "Hannah Clive is a Stand Out in the Indie Music World" and Limehead Radio calling her "A music guru".
Previous releases include the award winning 'Richmond Park Sessions' EP and her collaboration as featured artist and co-writer with The Herbaliser on the critically acclaimed:  'Lost Boy' (BBC6Music, Youtube Views: 55,000+). Hannah is successfully actively connecting with audiences online and radio globally: "Build it and the people will come" is her motto along with championing of  quality fellow indie acts. Recent performances include major London venues and arts establishments: The Royal Academy, London (exclusive Dennis Hopper Exhibition opening), The HMV Forum, The Bedford, Troubadour & online Music Festival Battfest. Follow @hannahclive